Yearly Archives: 2014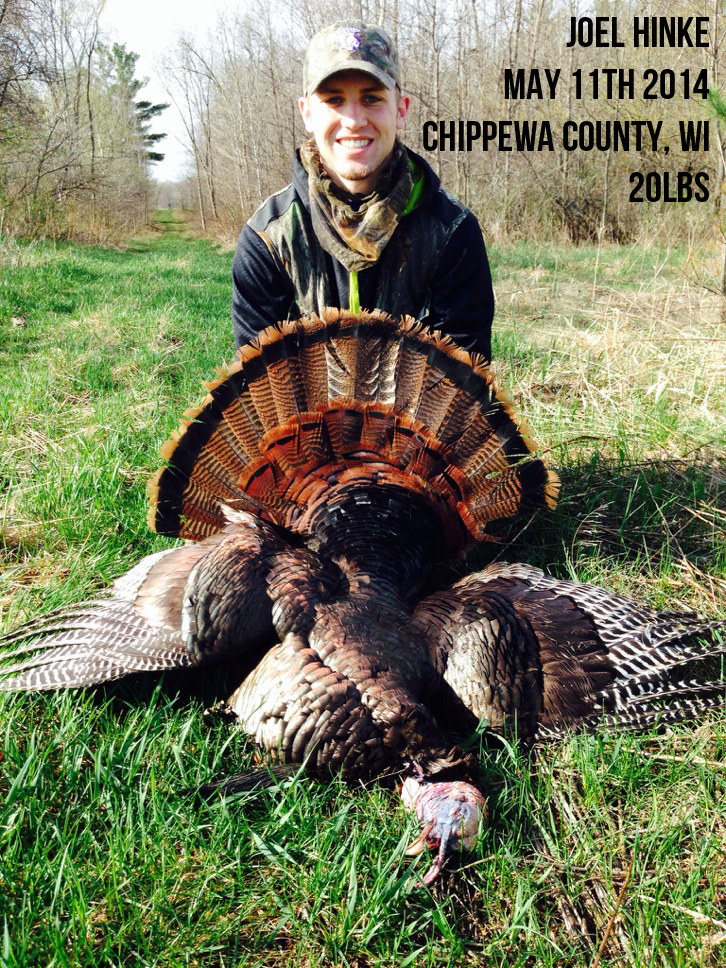 Hi Joe,
Well, we got one! The sweet sassy hen call did the trick. After a long, bone chilling Wisconsin winter, spring final arrived and it was our turn to take to the woods. Joel had just finished his 1st successful year, in the classroom and on the football field at Winona State University. It was his time for a little R&R and to enjoy some turkey hunting with Pops. Easier said than done! We had 2 tags and 1-1/2 days to get it done. Our Saturday hunt, 4 am – 7 pm consisted of 6 set-ups, three lonely hens and zero gobbles all day. We had exhausted most all of our spots to hunt, except one:  160 acres of woods with 2 long muddy 80 acre farm lanes to get there with an 80% chance of rain later that night. Th
ere seemed to be no other choice, so Joel coined the cliché " No Guts – No Glory" Let's go for it! Reluctantly, I gave him a high five and agreed, thinking the whole time, Mom's going to have my "You know what" when I get stuck in the mud 1/2 mile off the main road. Well, Sunday morning rolled around and it quickly became judgment day. First thing I said to myself, "Don't get stuck in the mud". Second, if you make it in, don't get stuck in the mud on the way out! A slick ride in, but we made it. Everything went perfect on our first set up, except the birds were roosted what seemed to be in the next county east of us. As the early morning hours turned daylight, we quickly realized there would be no chance unless we moved on them. After two more failed set ups, we decided to go old school. We left the blind and decoy behind and army crawled to the east fence line. Final we had the birds in sight. Three nice Toms scattered and were now strutting in an 80 acre unplowed farm field. Next thing you know, gone like ghosts in the night. A few faint gobbles as they seemed to be making their daily strutting rounds. As luck would have it, we moved up the fence line about 100 yards. While trying to decide our next move, two birds appeared from the tall grass about 35 yards out. Joel dropped to his knees and made his way to a tree on the fence line. I stood frozen and watch them forage and dust their feathers – hens. That's when I broke out the sweet sassy hen call and laid down some nice clucks, purrs and soft yelps. Then I decided to reach out to the Toms with some excited cuts and yelps ending with a mixed pattern of 1, 2 and 3 clucks. 20 minutes later a Tom came in strutting, too far out and no shot. Ten minutes went by and he left us again. I repeated my calls then went silent. 15 minutes later he came back, but this time the hens had moved on and it was one – on – one now. Couple soft clucks, a few purrs and scratching of leaves sealed the deal for Joel. Thanks for providing an outstanding product at a reasonable price. Enjoyed trying all the great tips you provided on your Yo
uTube video. Take care, Joe.
Jerry Hinke
President
Environmental Management and Testing Services,LLC
P.O. Box 3861
Oshkosh, WI 54903
Phone 920-376-1372
www.emts-wi.com
zoom

No doubt about it. Since I started using Lost Lake Custom Turkey Calls my turkey hunting and turkey calling has improved. The quality of Lost Lake Custom Turkey Calls along with their expert tips has made me a better turkey hunter. It has been a great 2014 turkey season and I'm looking forward to many more great turkey hunts using Lost Lake Custom Turkey Calls.    Thanks to Joe Mole for the best turkey calls on the market!
-Johnny Burbank
NetCommanderOutdoors.com
zoom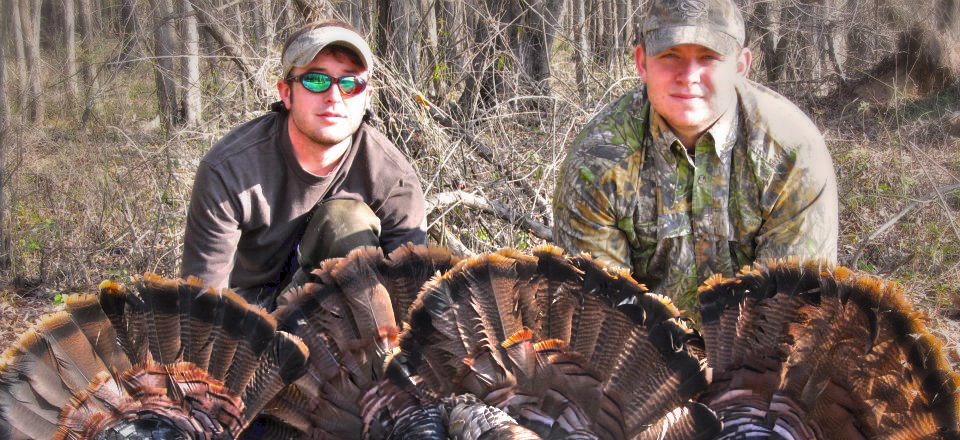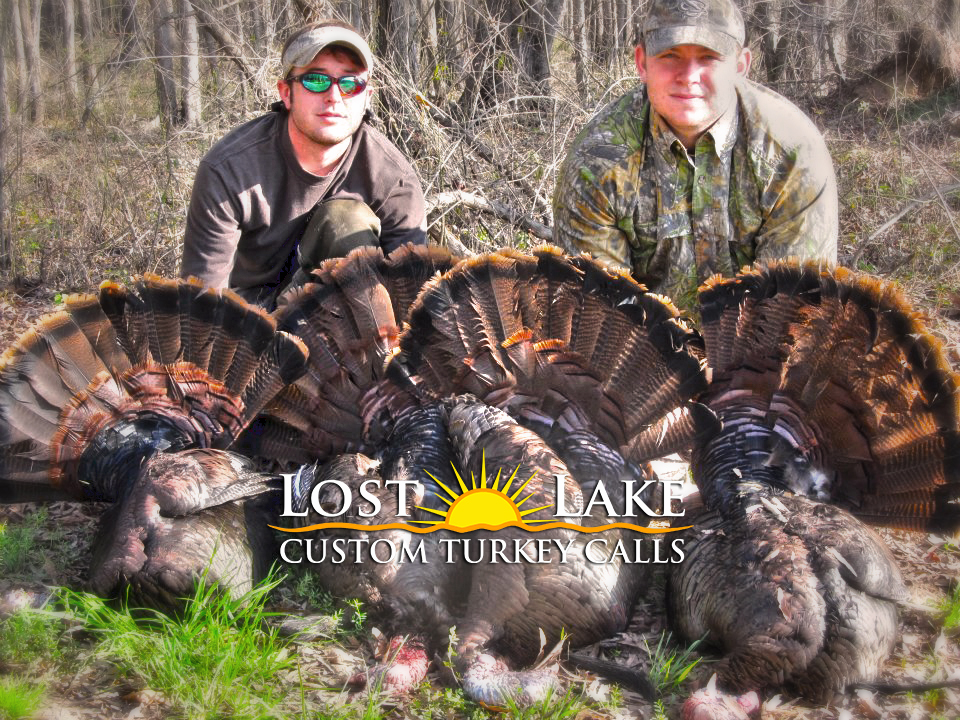 Joe, The two birds on the right hand side where killed by me. The first bird weighted in at 21 lbs., 11 3/4 inch beard, 1 3/4 inch spurs, and would be in the top ten of the South Carolina typical record books if I would have turned in the paper work. The second one weighted in at 22 lbs., 10 1/2 inch beard, and 1 1/4 inch spurs. These two were killed in Santee Swamp on opening day of the 2012 season. Both gobblers were killed using the Sweet and Sassy Hen. I called these two birds across a creek along with about eight hens. The cutting ability on this call is unbelievable. I have been killing turkeys in Berkeley County since I was ten years old. I have blown just about every call that you can buy as far as mouth calls. They do not come close to the realistic sound of Lost Lake Customs Calls. The other two birds were also killed in Santee Swamp by my best friend who was using the raspy young hen. Those two birds where roosting on the opposite side of Santee River from where my buddy was hunting. Using the Raspy Young Hen he was able to make them fly across the River, and drop into full strut at 20 yards where he was able to kill both of them. The bird on the left was 19 lbs. , 1 1/2 inch spurs, and a 11 inch beard. The next bird from the left was 18 lbs., 1 1/4 inch spurs, and a 11 inch beard was well. My buddy and I agree that we will be purchasing Lost Lake Calls as long as they are on the market.
Thanks Caleb and to all my customers who make Lost Lake Custom Calls a success.